MySecondLine – Auto Reply
Set up an automatic response!
Busy working and don't have time to text back? MySecondLine will send an automatic response to your clients, friends, and family, so you can always be there for them even when you're not.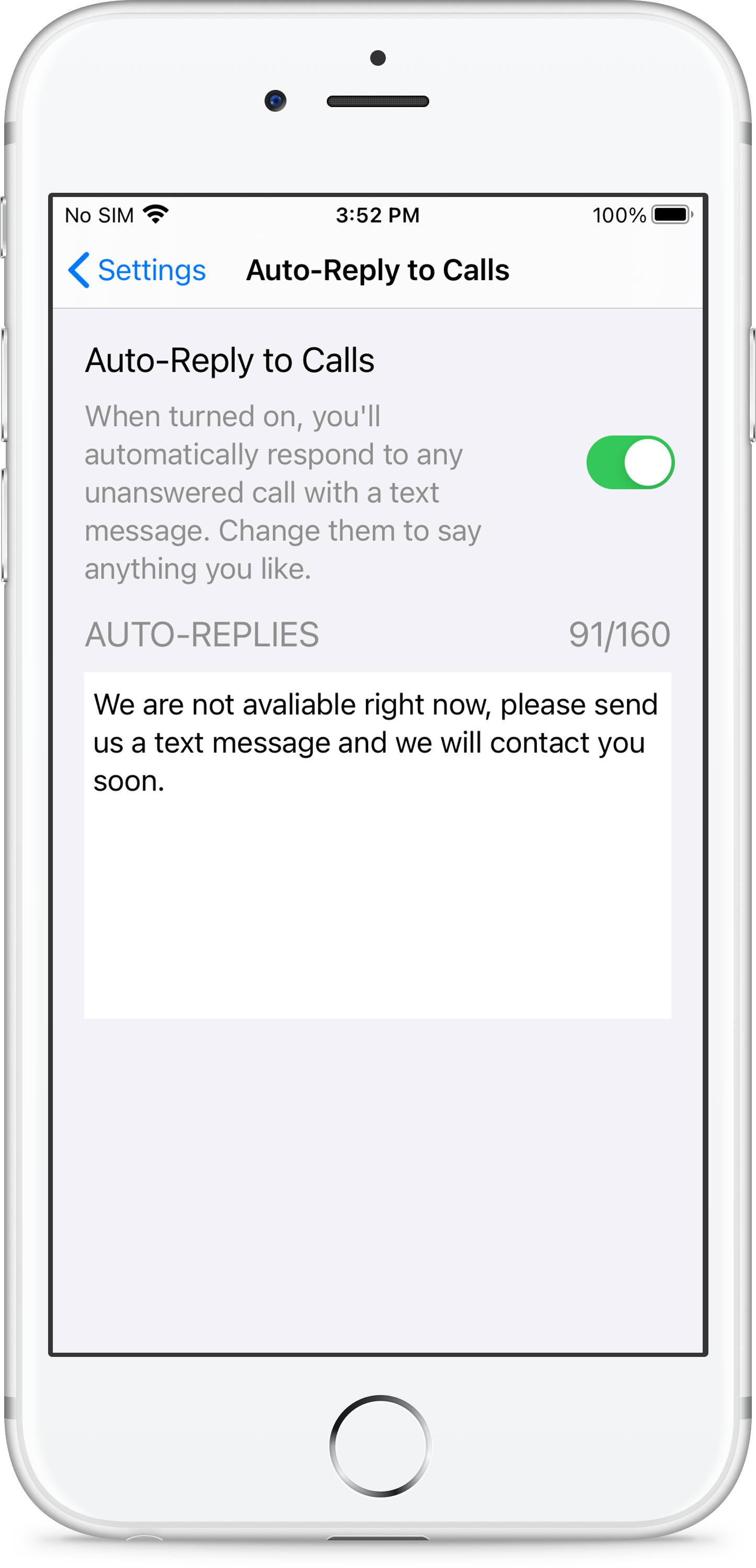 Set up an automatic response
Don't let your business suffer when you're busy! Set an auto-reply for your unanswered calls and texts, and always show your clients that you care! 
Customize your auto-reply depending on your needs
You can use this feature for everything from letting your clients know your working hours, rescheduling an appointment, or letting your mom know you're going to call her later.
Keep your life organized and save time
Keep everything under control by answering to everyone who's reaching out to you, whether it's your clients or your friends and family. Showing you're caring is the key to success.
Be in touch with your people even when you're offline!
A frequent flyer? No time to answer your calls and texts? Worry no more because our app will do it for you! Set the auto-reply and get back to your people even when you're up in the clouds.
Make your customers feel appreciated at any time!
Too many clients to attend or a different time zone are not a problem anymore because our app will send them an auto-reply within a few seconds.
Provide information on frequently asked questions
If you don't have time for answering the same questions over again, you can set an auto-reply message providing all the information for your clients.
"My auto-reply works as my secretary!"
"Since I've installed the app, I feel like I have a personal assistant who provides my clients with all the info about my flower shop. Working hours, flower arrangements, prices, and deliveries." 
Patricia Weeks, a flower shop owner
"Replying to all our clients!"
"Mary and I work very hard to keep our restaurant clients happy and satisfied. Our place has thirty table capacity, and it gets packed almost every day. Our master chef attracts a lot of our clients, and the waiting list is long. With the auto-reply, we make sure everyone gets the information on our daily menu and availability. Helps us keep our heads straight and run a successful business."
Stephen Mayers, busy restaurant owner

"Easy way to let people know our working hours "
"Our library only works from Monday-Friday, but it's in the busy part of town, so we often get phone calls on the weekends. To avoid the headache, we installed MySecondLine as our business number, and thanks to the auto-reply, we let our customers know our working schedule without even touching the phone. It works great!"
Albert Rodriguez, local library assistant
"I don't ever have to answer a message on what's the price of the artisanal bread I bake. I just set an auto-reply to the MySecondLine number that I use only for work, and all my clients get the updated prices."
"I always need to respond to my clients, even when I'm in the middle of a trial. Being a lawyer requires solving many people's problems and getting back to their legal needs. MySecondLine texts my clients back when I'm too busy, and no one feels left out."
"Pretty cool to answer a text or a call even when I'm sleeping. I love this app." 
"No more trouble with my GF when I don't pick up the phone. My app sends her an auto-reply, and she's happy to hear from me at any time!" 
Frequently Asked Questions
Can auto-reply be used for unanswered calls?
Yes. The auto-reply option works for both unanswered calls and text messages.
Does auto-reply work when I'm offline?
Yes. Our auto-reply sends automatic messages to unanswered calls and texts every time you activate it, no matter if you're online or offline.
Can I use customized auto-reply for different numbers?
You are in the right direction! Currently, the auto-reply is generic to all incoming numbers. However, we are working on this feature, and it will be available soon!
Make the most of your time by setting up the free auto-reply and keep everyone happy.
Get Started Now