Get Verification Code
Sometimes called an OTP code, a verification code is a PIN sent to your mobile phone via SMS. The only way to use this code must be to enter it on the website after registration and before submitting any form. 
This security protection method helps prevent Internet robots from spamming or abusing the forms with fake information.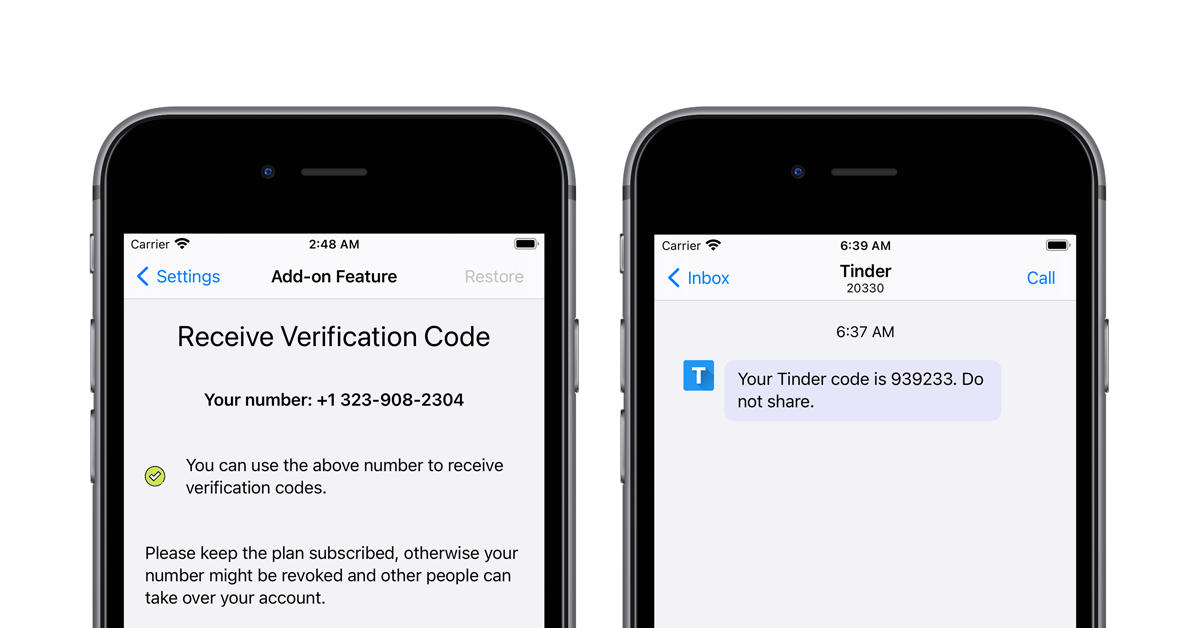 When Do You Need to Receive a Verification Code?
Important Action in the Apps
Whenever you make an action inside the app, it requires you to enter the verification code number sent by the company. For example, when you purchase or do a cash transfer, the bank app will ask for the code to verify you.
Log In To Website or Apps
After a week or two, logging in again to the apps or websites will not cause any problems. You can also use different devices for logging in with the help of the verification code, but make sure they are connected to the same account before proceeding.
Reset Your Password
You also require the verification code number when you want to reset your password for accounts of these apps, as the primary purpose of verifying text is to authenticate whether it is the same person who wants to change the password. 
App Prompt Verification
The app may ask you to enter the code again during your usage. For example, Paypal will ask verification code every 1 or 2 months. 
Signup a Website or App
You need a verification code to sign in to a website or app such as Tinder, WhatsApp, etc. You can't just go on your phone and log in to these apps without a verification code.
Sending Notifications
Sometimes the app may send essential notifications to that number with a text message. For instance, pending jobs notifications to Amazon delivery drivers.
How to get a Verification Code without Using Your Personal Number?
When you sign up for a dating site, you are usually asked to provide your phone number so that the site can send you a verification code. This code ensures that the person registering is actually who they say they are. However, what if you don't have a phone? Or what if you want to use a different phone number than the one you registered with?
You can get a virtual phone number from our app! 
Open an account on our website, choose your desired area code from the list and begin using your virtual phone number. 
Then you can enter that phone number on the app or website you want to register and receive the code in the app and finish the registration.
What are the Benefits of doing Phone Verification Using This App?
Bypass Verification
You can get different phone numbers to bypass the verification. You'll be able to take advantage and make international business more accessible.
Easier International Business
The code will work no matter where in the world you are, even if it's at home or abroad. So nothing is holding back an entrepreneur from starting their ventures today with just one click away.
Guarantees to Work Out
It guarantees to work out and receive the verification codes. Our numbers will work for all the verification codes regardless of the type.
No Spam
With such a number, you will not get any spam or harassment. Stay private and secure. No need to use your personal number.
Multiple Numbers
Get as many as real numbers you want. We offer multiple numbers. You need to contact our team, and we will handle the rest.
Which Websites do the App Guarantees to Receive the Verification Code?
This app supports and guarantees to receive verification codes from many websites. It's including the below list but is not limited to them. Almost all websites are supported and it's guaranteed to receive the code. Even if it doesn't you can request a refund from us.  
Apple
Amazon
WhatsApp
Google
Facebook
Tinder
TikTok
Telegram
Discord
Hinge
PayPal
Plenty of Fish
Twitter
Bank of America
Instagram
AOL
AT&T
Affirm.com
After Pay
Alias
Arba
Argent
Aspiration
BLK
BOT
Badoo
Banxa
Barclays
Binance
Binance US
Bleacher Report
Blizzard Entertainment
Bolt
Bumble
COTP
Cash App
Chalkboard
Chase
Chime
Chirp Access
Chispa
Chumba Casino
Clearpay
Clubhouse
Coinbase
Deliveroo
Depop
DoorDash
EF MyAcademy
EasyLine
FOODHUB
FTX
FTX US
Fling
FoodPanda
Found
Four
Freelancer.com
GGbet
GWP
Gemini
Getir
Gorillas
Grain
Grasshopper
HUD
Her
Hermès RDV
Housekeeper.com
Huobi
ID.me
Instacart Shopper
Kippo
Klarna
KuCoin
LOBSTR
LinkedIn
Loanz
LocalBitcoins
LutherSales
Lyft
MITB
Marco Polo
Match
Mercari
Messenger
Metro Bank
Microsoft
MoonPay
Neo
Newton
Nike
OFX
OkCupid
Ourtime
PNC Bank
PayBright
PaySending
Payoneer
Paysend
PingID
Pret A Manger
Principal Financial Group
Proton
RM phone
RealEstateAgents
Revolut
Robinhood
SDM
SIGNAL
SWICA
Salams
Samsung
Sezzle
Shop Pay
Snapchat
SoFi
Spring Financial
Starling
State Auto Insurance
Strike
Stripe
SwitchUp
TARGET
Taimi
Talk360
TaxHawk
Tech bit
Telos
TomoCredit
Truth Social
TurGame
TurboTax
U-Haul
Uber
Viber
Video Call
Votre code de
Vrbo
VulkanBet
VulkanVegas
Wink
Wise
Wix
Wuffes
Yelp
Youtube
Yubo
Zilch
Zip
Zoom
blockchain.com
countingup.com
eGifter
firebaseapp
hangTag
musicMagpie
muzmatch
myGov
thinkmoney
wise.com
For just $9.99, you can get an exclusive virtual but actual phone number that will work for any business. It guarantees to receive the verification codes and keep working even when your connection is lost.
"This is an excellent solution for my dating app. As there are many people and you can't give your personal details to everybody. I can use the various dating websites safely."
"This is the app I needed the most as an Uber driver. I can sign up from these numbers as many as I want and earn money the right way."
"I have been investing in cryptocurrency for a while. But the fake number has made it easy to register on Crypto.com and receive verification codes. I am really unstoppable."
Frequently Asked Questions
How long can you use it?
You can choose the time as per your wish. It can be one week or one month, or even one year. Besides, you can cancel the subscription anytime when you no longer require it.
Which countries do you support?
We support many countries such as the US, CA, UK, AU, DK, FI, NL, CZ, SE, and more.
Can I lock the number permanently?
Yes, you can choose or upgrade to an annual plan and keep the subscription always active.
Will other people get the same phone number?
Your number will be unique, and other users can't get the same number as yours.
How many such numbers can I get?
You will get 1 real phone number. You can register with a different account and purchase more if you need more. If you need a lot, for example, more than 10, you can contact us, and we will provide a bundle deal with you.
Does it work for all the websites above?
For most of the websites, yes, it will work. Sometimes it may require different numbers. You can contact our support to figure out the solution.
My website/app is not in the list above. Does it still work?
Yes, it works for almost all websites as it's an actual phone number. We seldom find websites that do not work. You can always purchase and try if it really doesn't work, and you can request a full refund.
What should I do for any questions or problems receiving the code?
Contact us in the app or email us. We will reply within 24 hours and make sure to help you get the code.