MySecondLine – Greetings
MySecondLine makes sure that your clients always feel welcomed with the unique greeting feature. Record your voice and allow your clients to hear it even before you pick up the phone.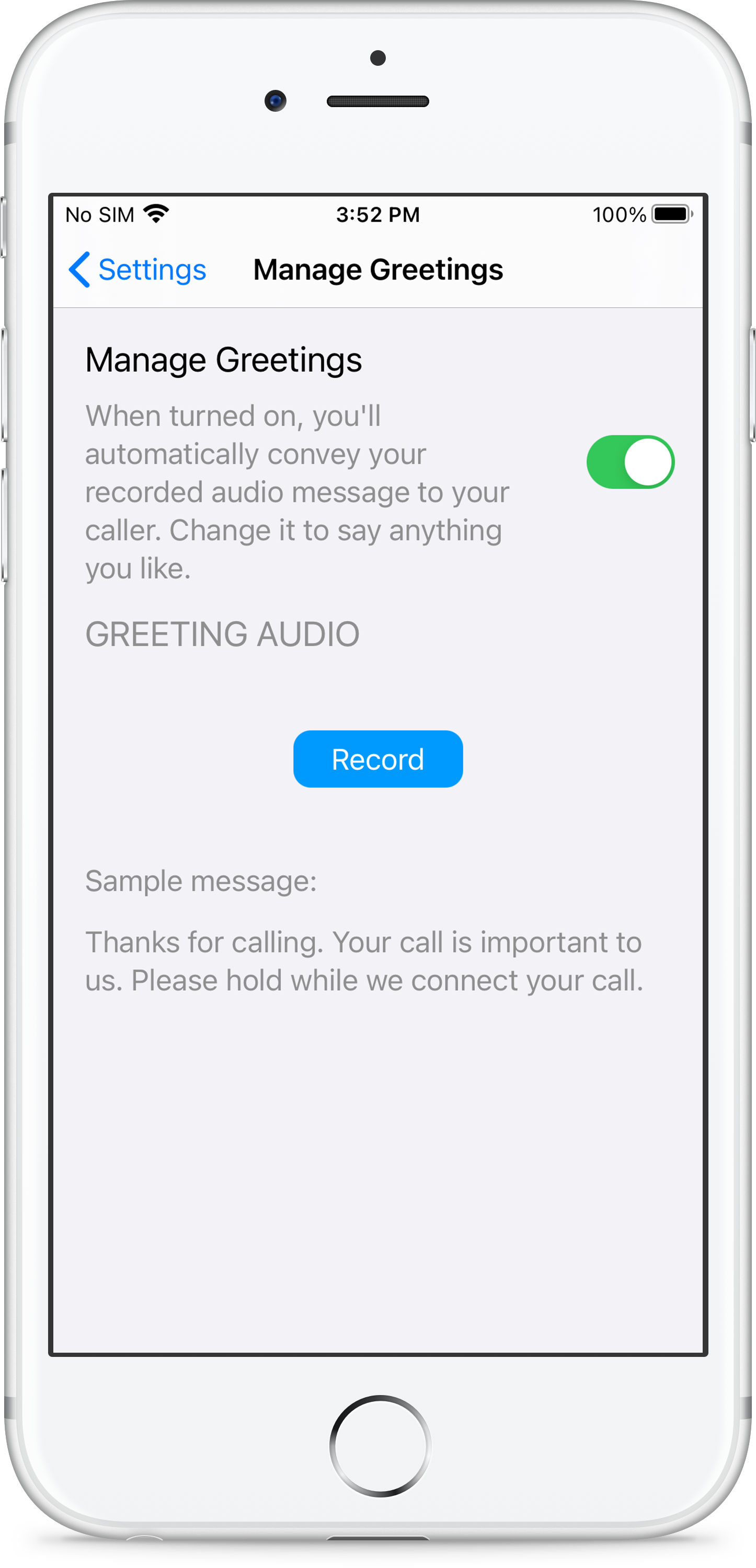 Easy to Enable/Disable
Depending on your needs, you can easily enable/disable the greeting feature. Perfect for busy companies who don't want to make their clients wait not even a second.

Share A Warm, Welcoming Message with Your Clients!
People always want to be attended by a real person rather than a robocall. Welcoming them with your voice makes a big difference, and they will be pleased to wait for a few seconds.

Have Them Hear Your Voice Even Before You Pick Up!
If you can't immediately attend to your clients' calls, we have a solution for you. When enabled, the greeting voice will sound even before you pick up the phone and let them know whatever information you want to share with them.

Happy Clients
Make your business shine by keeping your clients happy. Your clients deserve first-class attention, and our greeting feature will do it for you and skyrocket your company among the best! 

Virtual Receptionist
Our greeting feature will be your magnificent virtual receptionist, so you can save some money on hiring a person. Your business and your clients are worth our superb app trust. 

Provide Information
You can record your voice to welcome your customers, as well as providing them with all the essential information about your company, including working hours, services, and deals.
"My family loves to hear my voice even when I don't answer the phone!"
I am a professional tennis player traveling to tournaments around the globe, and I can't always answer the calls from my family. This feature allows me to record a different greeting each day, so my friends and family get a unique experience with hearing my voice, even when I'm on the tennis court playing!
Philip Rogers, tennis player

"My company has been blooming since I installed this app!"
Working with hundreds of clients per day, I can't always answer the phone on time, so I recorded a cool welcoming message that my customers can listen to while they're waiting. Hearing a real talking person instead of a robot voice gives them trust and makes them more patient.
Emily Winterbottom, a tire company manager

"Building trust among customers!"
Our travel agency gets busy on weekends, so sometimes our customers can't wait to get attended, and even get nervous. The greeting feature from MySecondLine makes things smooth for us, as people are always happy when they receive a generous welcome.
Dennis Anderson, travel agency co-owner
"I change my greeting message at least once a day before my grandma calls. She loves to hear my voice, and I can't always call her back due to my busy schedule!" 
"Since installing this app, my sales increased by 68%! I recorded a greeting welcoming my clients, letting them know about our newest models, prices, and discounts!" 
Frequently Asked Questions
Can I change my greeting recording every day?
Yes. You can record a new voice greeting every day, depending on your needs.
Does the greeting feature work on all devices?
Yes. You can enable the greeting feature on all devices that have our app.